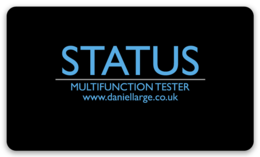 STATUS is a veritable swiss army knife of a tester. At the other end of the scale to the STATE, this device tests, measures, controls, pings and checks many of the protocols in use in the entertainment today.
The aim behind all the different modes it easier to make modern lighting systems talk to each other, and find out what the problem is when they don't without the need for digging out a laptop and that ethernet adaptor you can't find.
A number of features take it beyond just a tester. The "node"  "dongle" modes turn it into a useful device for getting you out of trouble.  Record and playback across protocols.  The large screen makes it a useful LTC clock if that is your need. There are contact closure inputs for remotely firing memories or OSC commands.
The device has a 4.3″ touch screen and clicky encoder for user input, and a number of proper Neutrik connectors for getting signals in and out.
Charges from a USB micro B phone charger, and can also run plugged in.
A full list of features can be found below, and more will evolve over time. The firmware in the device can be downloaded from the internet and updated by the user.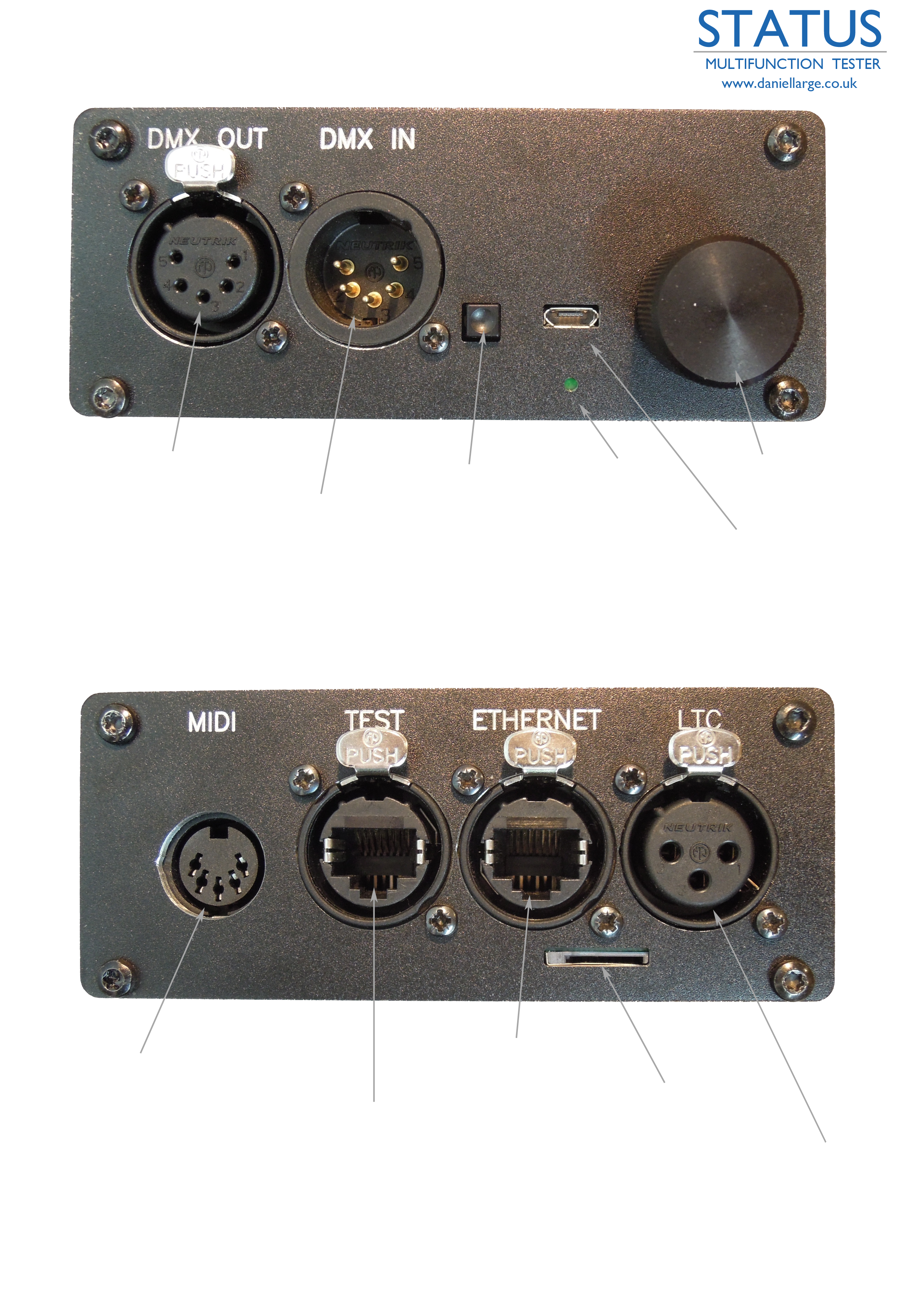 Specification
STATUS is a multipurpose tool aimed at the live events industry. It allows a field technician to diagnose faults, test for presence
of correct signals and wiring and control lighting equipment across a variety of different control protocols.
The unit can be used to act as a protocol bridge in some circumstances, and data can be recorded and played back from a micro SD card.
DMX, DMX RDM, ArtNET, sACN, OSC, MIDI, MTC, LTC, Contact Closure are supported at this time.
The battery powered tester frees the technician from carrying around a easily damaged expensive laptop and multiple dongles.
The unit also provides a computer interface for the mentioned protocols, and a suit of applications using the data will be available soon. One, the LTC display is already available – Allowing the display of SMPTE Timecode on a Mac or PC in a floating window, so values can be embedded with screen recordings, or used as a large clock readout.
DMX
The unit can receive and transmit DMX512, STATES can be set up by channel
Scope mode; 4 channels can be views level against time on an oscilloscope style display. – helpful for diagnosing transient faults.
64 channel levels viewable at once in DMX input view
Completed states can be saved to SD card for replay via DMX or any other below protocol.
Replay moving scene on loop or in single snapshot
RDM
Discovery, Identify, Report sensors, send lamp strike/reset/douse, readdress.
Send DMX with alternate start code to test for non compliance.
CABLE
Open and short circuits can be detected in standard wired DMX 5pin XLR cable (pins 1,2,3)
Pictorial reference for ease of diagnosis.
Open and short circuits can be detected in standard wired ETHERNET Cable
Ethernet wiring diagram/ type indication
Remote probe can be used to identify wiring when you can't see both ends of the cable.
Ethernet
Protocol detector "on the wire"
NTP and DHCP Test (tests for internet connectivity)
CTP/LLDP – in a future software update
ArtNet and sACN (E131)
All features of DMX
Stat page showing universes on network, framerate etc
Send to any Universe, by channel or fixture.
Save a Universe to memory (SD card) or All incoming universes to a memory. (selectable)
Tools
sACN node mode ( IN to DMX or Out to DMX)
ArtNET node mode (IN to DMX or Out to DMX)
USB dongle mode computer to DMX/ART/SACN
OSC
Receive and display incoming strings on a adjustable port & IP
send test string which is also saved internally. The string is also send on closure of contact 1
MIDI
Input log, shows incoming data on inbult 5pin DIN connector
MSC decode, decodes MSC into human readable Cue numbers etc
Midi output to send notes on/pff, pitch and velocity changes.
Ping
Ping a device on the local network. Selectable "to" and "from" IP addresses
MTC
Display Midi timecode and frame rate
LTC
Display SMPTE Linear Timecode (LTC) and frame rate from inbuilt 3pin XLR
Display average incoming signal level in mV and on bargraph
MAC and PC App to display LTC in a floating window (for screen recordings, TC tagging, larger clock displays etc) – Done
PLAYBACK
Playback saved memories to DMX, ArtNet and sACN. Regardless of where they came from.
Streaming data can be recorded and played back at its original frame rate, a show can be recorded and playback looped.
SWITCH
Contact closure x 6 to all output protocols including OSC.
Debug
The USB on the device outputs serial which can be viewed in any terminal program, providing an all protocols to serial adaptor for logging projects etc.
Could be used to timestamp with LTC for example, or view incoming MSC commands over the course of a day.
HARDWEAR
Encoder for rapid level setting (clickable to jump 0,50,100%), encoder also selects universes etc.
Touchscreen
Rechargeable Lithium Polymer battery, charges via micro usb B, using supplied cable.
Robust extruded aluminium case
XLR 5 pin Male DMX
XLR 5 Pin Female DMX
XLR 3 Pin Female (LTC)
DIN 5pin (MIDI)
Ethercon RJ45 Socket (ArtNet,sACN,Ping,OSC) and additional test socket, remote probe available as an accessory.
MicroSD – fixture library and saved states – editiable via any text editor.
Full battery monitoring (an improvement from STATE R3!)
Firmware is user updatable.