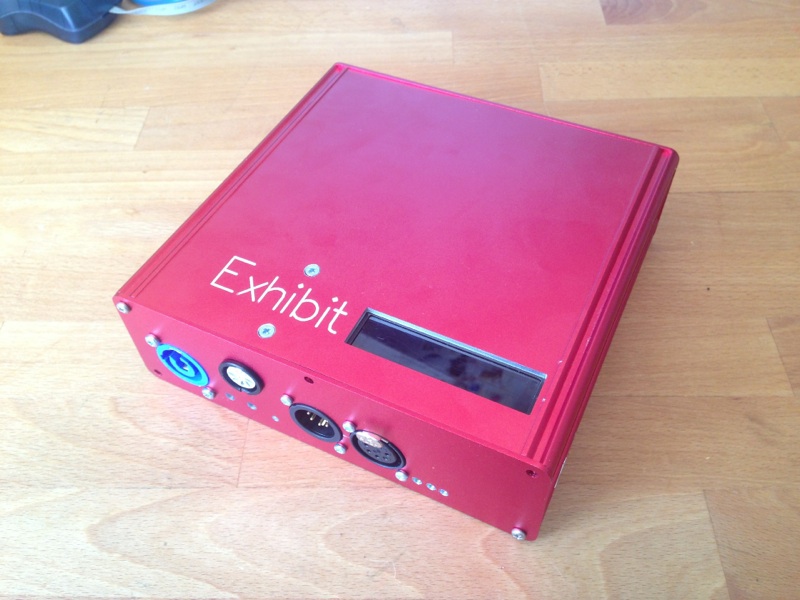 Exhibit has a wide ranging remit, essentially inspired by a need for an easy way to interface lighting, sound video etc in a museum or gallery, or interactive performance. This project was inspired by the 5sq XGO I used for the War Horse Exhibition, and also incorporates the features of the MIDI to DMX bridge. I have designed Exhibit to be as flexible as possible:
• 84 contact closure inputs (expandable) for switches etc.
• MIDI out – programmable Notes, Controllers, SysEx, MSC etc
• DMX 512 in and out – control lights, trigger consoles, media servers.
• Analogue sensor cards can be fitted to allow environmental sensing etc.
• LCD display shows status of inputs and outputs.
• Internal logic – The unit can be programmed to do useful things eg lockout inputs until an event, AND, OR, NOT sort of operations of inputs can simplify programming of installation.
• Inputs are via RJ45 connectors, allowing use of cheap network cable for large installations
• ExhibitTerminal is a RJ45 to terminal block PCB – for easy connection of switches to network cable.
• Internal PSU for easy and secure installation.