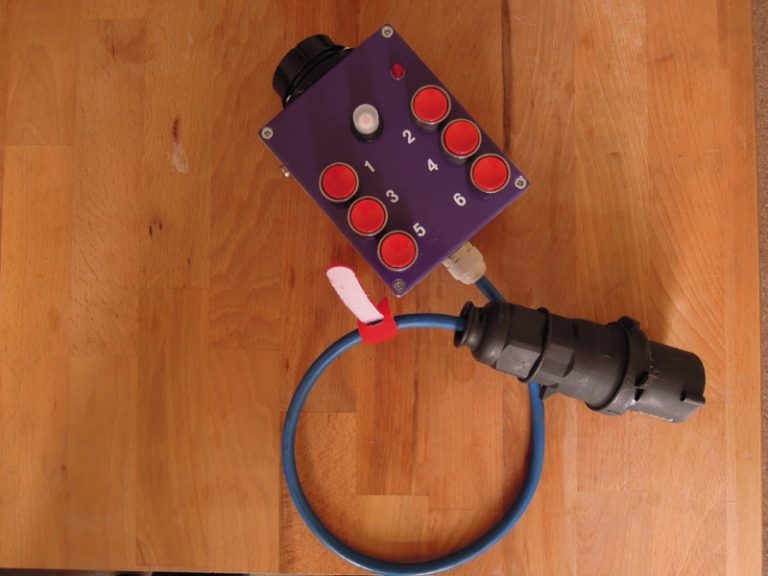 A few people have been asking me to make them socca flash out boxes, socca grenades, etc etc. It looks like it is becoming hard to get the really nice GDS one.
I made the one in the picture (plus a couple of copies) in 2012.
I don't really want to sell these as they cost more to make than you want to pay for them, so I am posting the plans and part list for a flash up box, so IF YOU ARE COMPETENT please feel free to use them to make your own 6 channel flash up box.  OR more excitingly mod the plans, make something better!
Plans are provided as is, no warranty / help !  You are responsbile for the safe wiring, adherence to relevant local wiring codes for protection against electric shock and fire risk.
I have seen all sorts of these on my travels, some people do a rotary switch instead of 6 buttons, thats nice so you can leave the channel engaged an address a moving light for example. I like these big fat red button switches as they are really hard to smash, the think has been kicked across the stage and generally rides in the bottom of my tool box underneath my spanners without damage… plenty of scratches now!
To make my one you will need the following parts… (from CPC)
| | | |
| --- | --- | --- |
| Q | CPC | Part |
| 1 | EN81987 | Enclosure |
| 1 | FF01647 | thermal circuit breaker |
| 1 | FF00583 | breaker button cover 2 pack |
| 6 | SW04569 | Switches |
| 1 | CN01655 | Socca female |
| 1 |  PL15610 | 16A Plug |
| 1 |  CBBR7835 | 20mm Cable Gland |
| 1 |  CB19619 | 0.5M of HO7 TRS |
| 1 |  SC10655 |  Neon indicator |
I like to drill holes by printing the dwg 1:1 and sticking over the box, and centre punching out where the drilling should go.
Be warned, there is a allot of wiring to fit in the box.